Supermicro SC846 120mm fan wall adapter
Like so many in the homelabs community, I finally got ahold of the SC846 chassis and found it to be almost perfect - except for the loud stock fan wall.
There are many other options out there for 3d printed 120mm fan walls.  But they were all pretty janky, relying on friction fits or a bunch of extra parts and fasteners.
So I set out to create a drop in replacement, that leverages the same mounting points, the original screws, tight tolerances to maximize air pressure differential, and minimum airflow impedance for the fans.
This design can be printed on almost every mainstream FDM 3d printer - Enders, PRUSAs, et al.  You can grab the file to print yourself here for $1.70.
Update - 7/29/23:
I have revised this model with a new iteration that makes is possible to print on smaller printers (now requiring only 200x200mm footprint) as well as making it easier for me to pack and ship for custom orders.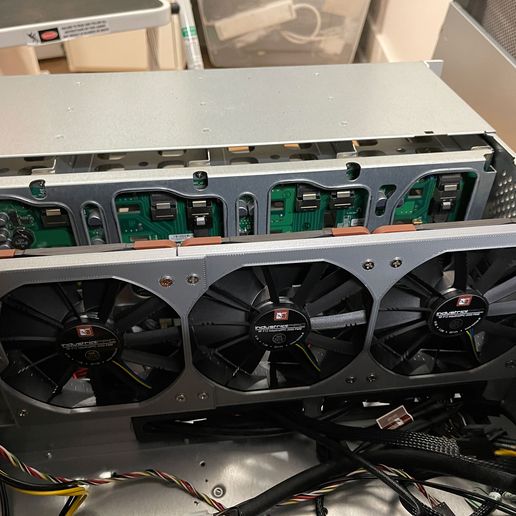 If you don't have a 3d printer, and really want this made for you, I'm offering this made-to-order for $30.